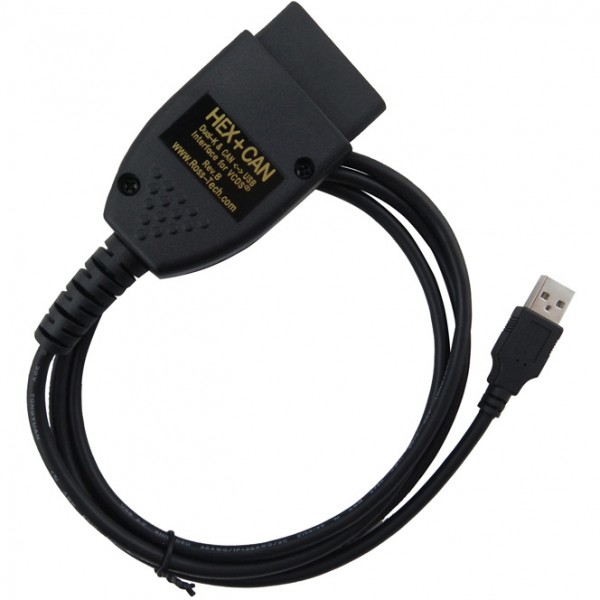 VAGCOM VCDS Diagnostic System will let you to read and clear both generic and manufacture fault codes on VW, Audi, Seat and Skoda Vehicles.
VAGCOM VCDS Diagnostic Cable Functions:
– works on VW AUDI SKODA SEAT cars so far (2017)
– The number of known fault codes has been expanded but also the number of parameters in real time
– Improvements made to the advanced measurement menu
– Supports 6-character secure access codes
– The HEX-NET Turbo speed has been optimized
– optimization for low-level timing
– Major firmware enhancements
– Improved UDS protocol speed
– Resolved issue with SRI reset
– many other minor improvements over previous versions.
– over 20,800 error codes
– support for the new MQB / Mk.7, 4G Audi A6 Gateways
– Draw graphics and store information while driving
– Compatible with older cars using K-line, L, K + L, Dual-K, CAN (cars after 2004) and UDS (after 2010)
– Read, interpret and delete Diagnostic Trouble Codes on engine and auxiliary modules
– Edit and visualize machine parameters in real time,
– reads actual kilometer from ECU (EDC 15 and EDC 16),
– offers the possibility to program hidden functions of centralized shutdown, dash lights, dome light, or follow me home, changing the language of the onboard computer,
– adaptation of the throttle,
– Changing the reference position for Xenon,
– changing the distance of the parking sensors,
– changing the speed to idling,
– changing the amount of fuel injected into the cylinders at rest
– Testing and real-time checking of injector and injection system functionality and all engine, gearbox, air conditioning, and more!
– Compatible with older cars using K-line, L, K + L, Dual-K,
– compatible with those requiring CAN protocol (cars after 2004)
– Diagnosis, Adaptation, Recognition Modules Engine, Airbag, ABS, Climate, A / C, Radio, Navi, Power Steering, Comfort, etc;
VAGCOM VCDS Diagnostic System Main Features:
00 Auto Scan
01 control module unit information
02 read fault codes
03 Output Test
Selective output test (only for KWP-2000 *)
04 Basic settings
05 clear DTCs
06 Close Control Module
07 pairs of coding control module
Slave control module for coding (only for KWP-2000 *)
Read measured value block 08
09-channel read (applies only to KWP-1281 *)
10 matching
11 Log (known under KWP-2000 * Coding II)
15 View Ready
16 security access (only for KWP-2000 *)
18 All supported fault codes (only for KWP-2000 *)
VAGCOM VCDS 19.6 Diagnose car list:
For Audi A1 (8X) 2010+
For Audi A2 (8Z) 2000 – 2005
For Audi A3/S3 (8L) 1997 – 2003
For Audi A3/S3 & A3 Cabriolet (8P/FM) 2004+
For Audi A3/S3 (8V/FF) 2013+
For Audi A4/S4/RS4 (8D) 1995 – 2001
For Audi A4/S4/RS4/Cabriolet (8E/8H) 2001 – 2008
For Audi A4/S4/RS4 (8K/FL) 2008+
For Audi A5/S5 (8T/FH/FR) 2007+
For Audi A5/S5 Cabriolet (8F) 2010+
For Audi 100/A6/S6 (4A) 1991 – 1997
For Audi A6/S6/RS6/allroad (4B) 1997 – 2006
For Audi A6/S6/RS6/allroad (4F/FB) 2005 – 2011
For Audi A6/S6/RS6/allroad (4G/FC) 2011+
For Audi A7 (4G) 2011+
For Audi A8/S8 (4D) 1994 – 2002
For Audi A8/S8 (4E) 2003 – 2010
For Audi A8/S8 (4H) 2010+
For Audi Q3 (8U/FS) 2012+
For Audi Q5 (8R/FP) 2008+
For Audi Q7 (4L) 2006+
For Audi R8 (42) 2007+
For Audi TT (8N) 1999 – 2007
For Audi TT (8J) 2007+
For Audi Radio/Navigation System
Bentley Continental (3W) 2003+
For Skoda Fabia (6Y) 2000 – 2007
For Skoda Fabia (5J) 2007 – 2010
For Skoda Fabia (5J) 2011+
For Skoda Felicia (6U) 1996 – 2001
For Skoda Octavia I (1U) 1997+
For Skoda Octavia II (1Z) 2005+
For Skoda Pick Up (67) 1996 – 2001
For Skoda Roomster (5J) 2006 – 2010
For Skoda Roomster (5J) 2011+
For Skoda Superb (3U) 2002 – 2008
For Skoda Superb (3T) 2008+
For Skoda Radio/Navigation System
For Seat Alhambra (7M) 1996 – 2010
For Seat Alhambra (71) 2011+
For Seat Altea (5P) 2004+
For Seat Arosa (6H) 1997 – 2004
For Seat Exeo (3R) 2009+
For Seat Ibiza/Cordoba (6K) 1993 – 2002
For Seat Ibiza/Cordoba (6L) 2002+
For Seat Ibiza (6J) 2008+
For Seat Inca (6K) 1996 – 2003
For Seat Leon/Toledo (1M) 2000 – 2006
For Seat Leon (1P) 2006+
For Seat Toledo (1L) 1992 – 1999
For Seat Toledo (5P) 2005+
For Seat Radio/Navigation System
For VW Amarok (2H) 2010+
For VW New Beetle/Cabriolet (1C/1Y/9C/AG/AL) 1998 – 2010
For VW Beetle (5C/AT) 2012+ (North American Region only)
For VW Caddy (9K) 1996 – 2003
For VW Caddy (2K) 2004+
For VW Corrado (50) 1989 – 1995
For VW Crafter (2E) 2006+
For VW Eos (1F) 2006+
For VW Fox/Spacefox/Sportvan/Suran (5Z) 2005+
For VW Gol/Parati/Saveiro (5X) 2000+
For VW Golf/Jetta (19E)|For VW Golf/Jetta II (19E) 1983 – 1992
For VW Golf/Jetta/Vento/Cabriolet III (1H) 1992 – 1998
For VW Golf Cabriolet IV (1E) 1999 – 2002
For VW Golf/Jetta/Bora IV (1J/9M) 1998+
For VW Golf/Golf Plus/Jetta/Bora V (1K/5M) 2004+
For VW Golf/Golf Plus/Jetta Wagon (JSW)/Golf Variant (5K/52/AJ) 2009+
For VW Jetta (1K/AJ) 2010 only
For VW Jetta (16/AJ) 2011+ (North American Region only, GLI excluded)
For VW Jetta (16/AJ) 2011+ (Rest of World, including North American Region GLI)
For VW Golf VII (5G/AU) 2013+ (Rest of World, 2015+ in North America)
For VW LT (2D) 1996+
For VW Lupo (6E/6X) 1999+
For VW Passat (31) 1988 – 1993
For VW Passat (3A) 1994 – 1997
For VW Passat (3B) 1997 – 2005
For VW Passat (3C/AN) 2006 – 2011, and later RoW
For VW Passat CC (35/AN) 2009+
For VW Passat (36) 2011+
For VW Passat (NMS/A3) 2012+ (North American Region only)
For VW Phaeton (3D) 2002+
For VW Polo (6N) 1994 – 2002
For VW Polo (9N) 2002 – 2009
For VW Polo (6R) 2009+
For VW Routan (7B) 2008+
The Routan is a rebadged Dodge Caravan and is NOT supported by either vag or the VW factory scan tools.
For VW Scirocco (13) 2008+
For VW Sharan (7M) 1995 – 2010
For VW Sharan (7N) 2011+
For VW Tiguan (5N/AX) 2007+
For VW Touareg (7L/A9) 2003 – 2010
For VW Touareg (7P/BP) 2010+
For VW Touran (1T) 2003+
For VW Transporter (70) 1991 – 1996
For VW Transporter (7D) 1997 – 2003
For VW Transporter (7H/7J) 2003 – 2009
For VW Transporter (7E/7F) 2010+